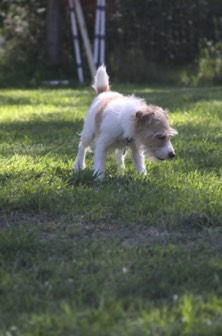 FOLLOW THAT NOSE!

Let your dog tire himself out naturally. Dogs have an amazing sense of smell and a natural desire to hunt why not use this to your advantage. Dogs love using their noses but we never give them the chance. This 4-week course lets your dog begin to use his nose for fun.

All dogs can use their nose. Shy, fearful or reactive dogs are never given the chance to do anything fun. This activity allows these dogs to play as only one dog at a time works. The others are secured in crates.

High-energy dogs burn calories as they race around on the hunt. Aging or disabled dogs can flex their brain muscles as they puzzle out the search at their pace.

It's a great way for your dog to have fun, build confidence, and burn lots of mental and physical energy. All dogs and handlers welcome.